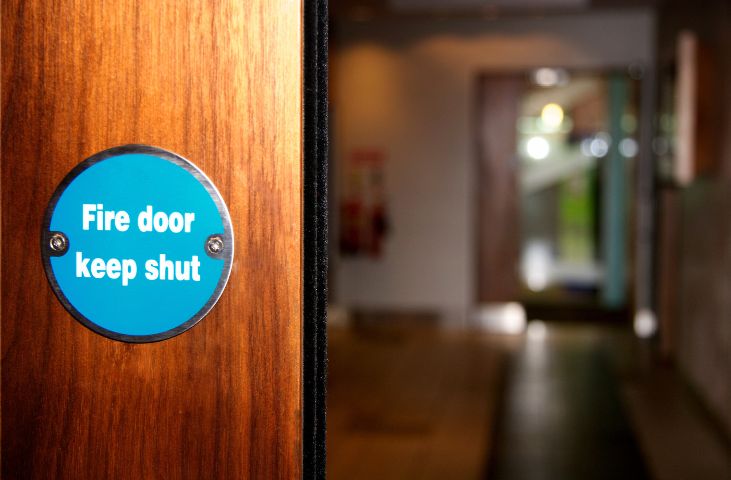 Estimated reading time: 5 minutes
Fire Safety Doors
It is a requirement under the Regulatory Report (Fire Safety Order) 2005, that fire doors are regularly inspected, tested and maintained as determined by the building's fire risk assessment. But did you know that fire safety door breaches are one of the most common fines implemented under the Regulatory Reform (Fire Safety) Order 2005?
A national campaign called the Fire Door Safety Week raises awareness of the role of fire doors in buildings. It urges property and owners to check their fire doors are installed, maintained and inspected, and meet the correct specifications.
To show our support for Fire Door Safety Week, we have written an article about the different aspects of fire safety doors. It covers :
What is a fire safety door?
The difference between a fire safety door and a standard door.
Why are fire safety doors important?
What types of buildings should be fitted with fire doors?
What are the most common fire door breaches?
More information and resources.
---
What is a fire safety door?
A fire safety door is a sealed door, made of timber, that is critical in stopping the spread of fire, heat and smoke, forming a barrier.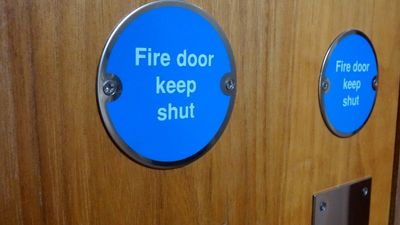 ---
The difference between a fire door and a standard door?
Fire safety doors often look like normal doors. They are still easy to open ensuring people move freely, but are study in structure, due to their specially designed door frames, door leaf, construction, glazing and seals. They must have a level of fire resistance that provides at least 30 minutes of protection. The most typical FD (fire door) ratings are shown in the infographic: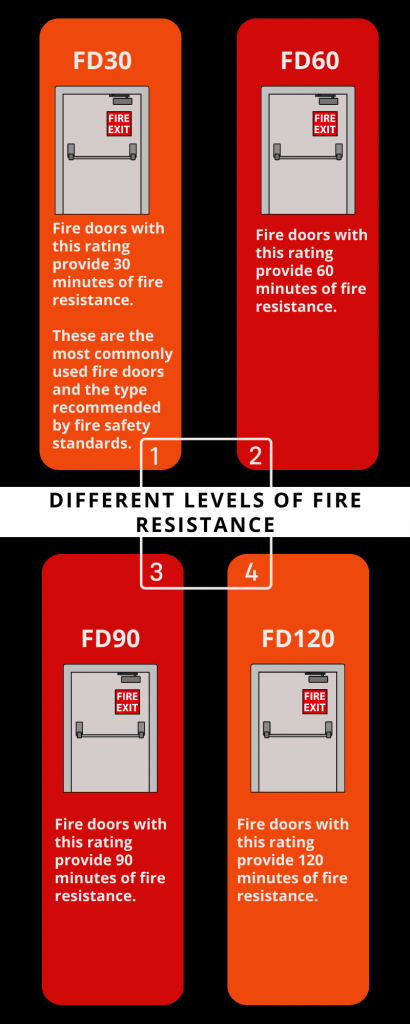 All fire doors should be clearly marked with one of the ratings above and may have signs on them saying 'Fire Door' or 'Keep Closed'.
---
Why are fire doors important?
Fire safety doors are designed to give occupants of a building more time to evacuate and delay the spreading of the fire by compartmentalising different sections of the building. They can provide a high level of protection if there are several doors along a route.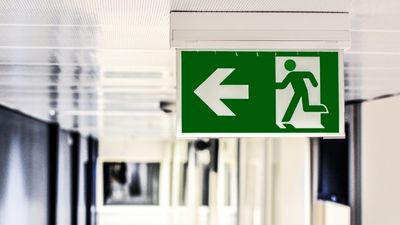 In summary, fire safety doors are important because they:
assist people that cannot escape easily, eg elderly, children or people with health conditions or impairments
make sure there is a clear evacuation route
provides a path for the emergency services to get into and exit a building
prevent fire and smoke spreading quickly.
---
What sort of buildings have fire doors?
Fire safety doors are needed in commercial, public, multiple-occupancy buildings and some domestic settings. Such as:
Private rented housing
council and social housing
care homes and sheltered housing
offices, shops and business units
schools, universities and colleges
hotels and guest houses
hospitals and health centres
public buildings.
---
What are the most common fire door breaches?
Any slight alteration to the fire safety door or its surroundings can affect its performance in a fire. Here are some common issues concerning fire safety doors: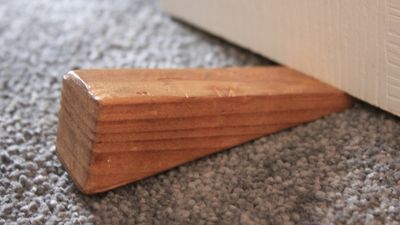 Fire safety that are wedged open.
Doors that are installed but are not certified. The BWF Fire Door Alliance in their Be Certain, Be Certified campaign provide more information about what third party certification is.
Damaged or neglected doors such as having visible gaps in the door frame.
Non-fire doors being installed where fire safety doors should be.
---
Fire safety doors are the first line of defence for vulnerable people and should be regularly checked to ensure they function correctly in the event of a fire. In this article we have explained how fire safety doors play a critical role in protecting people from the spread of fire and are an essential component of your fire safety strategy.
For a summary of all our online and face to face fire safety courses you can visit our All Fire Training Course page.
Our friendly customer support team is always happy to talk through your training options. Why not give us a call on 01327 552136, email us at hello@smarthorizons.co.uk, or use the live chat feature on this website to speak to us during office hours.
---
Related Links